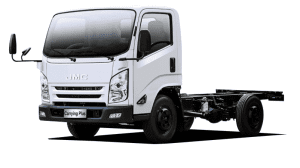 When it comes to transporting heavy loads in Dubai, efficiency, reliability, and convenience are paramount. That's where our 5 Ton Pickup Truck rental service steps in to meet your needs.
Whether you're a business looking to move goods, a construction site in need of material transport, or an individual with large cargo to transport, our 5 Ton Pickup Trucks are up to the task. Here's what you can expect when you choose our rental service:
Powerful and Versatile:
Our 5 Ton Pickup Trucks are equipped with robust engines capable of handling substantial loads. Their versatility makes them suitable for various transportation requirements, from construction materials to equipment and furniture.
Professional Drivers:
If you require assistance with driving and handling the pickup truck, our experienced drivers can be provided to ensure the safe and efficient transport of your cargo.
Flexible Rental Options:
We understand that different projects have different timelines. That's why we offer flexible rental options, whether you need a truck for a few hours, a day, a week, or longer.
Well-Maintained Fleet:
Our pickup trucks are meticulously maintained to ensure they are in optimal working condition, minimizing the risk of breakdowns and delays during your transport.
Competitive Pricing:
We offer competitive rental rates, ensuring that you get value for your money without compromising on the quality of service.
Timely Delivery:
We pride ourselves on punctuality. Your rented 5 Ton Pickup Truck will be delivered to your location on time, ready to assist you with your transportation needs.
Local Expertise:
With a deep understanding of Dubai's road networks and regulations, our team ensures a smooth and hassle-free experience, navigating through the city's diverse landscape with ease.
Make your heavy hauling tasks in Dubai a breeze with our 5 Ton Pickup Truck rental service. Whether you have a one-time transportation need or require a reliable solution for ongoing projects, we've got you covered. Contact us today to book your pickup truck and experience efficient and stress-free cargo transportation in Dubai."