Tank Trucks in Dubai
A Tank Trucks in Dubai , also known as a tanker truck or liquid transport truck, is a specialized vehicle designed for the transportation of liquids or gases in bulk quantities. These trucks are a vital component of various industries, including transportation, agriculture, manufacturing, and petroleum, among others. Here is a detailed description of a typical tank truck: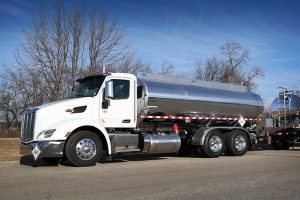 Design and Configuration: Chassis:
Tank trucks typically have a sturdy chassis to support the weight of the tank and its contents. The chassis can vary in size and strength depending on the intended use
Tank:
The tank itself is the most prominent feature of the truck. It is a large, cylindrical container made of materials such as steel, aluminum, or plastic, depending on the type of cargo it carries. Tanks may be single-compartment or multi-compartment, allowing for the transport of different liquids simultaneously.
Tank trucks are equipped with pumping systems and hoses to load and unload their cargo efficiently. These pumps may be located on the truck itself or operated remotely.
Safety is paramount in tank truck design. They often feature specialized safety valves, pressure relief systems, and emergency shutoffs to prevent accidents and leaks.
Types of Tank Trucks:

Fuel Tankers: These trucks transport gasoline, diesel, or other liquid fuels from refineries to gas stations or industrial facilities.
Chemical Tankers: Designed for the safe transportation of chemicals, these tank trucks are built with materials that resist corrosion and contamination.
Food Grade Tankers: These trucks are used for transporting food products, such as milk, juice, or edible oils, and are constructed to meet strict hygiene and sanitation standards.
Bulk Powder Tankers: Utilized for transporting dry, granular materials like cement, flour, or sand.
Liquefied Gas Tankers: These trucks transport gases like propane, methane, or nitrogen in a liquefied state, often under high pressure.

Capacity:

The capacity of a tank truck varies widely based on its size and purpose. They can range from a few thousand liters to over 30,000 liters or more for specialized applications.

Specialized Features:

Some tank trucks have features like insulation or heating coils to maintain the temperature of their cargo.
Others may have baffles inside the tank to prevent sloshing and improve stability during transit.

Regulations and Safety:

Tank trucks are subject to strict regulations to ensure the safe transportation of hazardous materials. This includes compliance with government standards for labeling, placarding, and driver training.
Drivers of tank trucks often require special certifications due to the unique challenges and safety considerations associated with handling bulk liquids or gases.

Role in Industry:

Additionally, tank trucks play a critical role in ensuring the efficient and safe distribution of various liquids and gases. Consequently, they have become indispensable in sectors such as logistics, agriculture, chemical manufacturing, and the energy industry.
In summary, a tank truck serves as a vital link in the supply chains of numerous industries by safely and efficiently transporting bulk quantities of liquids or gases. It is a specialized vehicle designed for this purpose.