Commercial Vehicles in Dubai:
, often referred to as a "commercial vehicle" or simply "commercial auto," is a specialized type of motor vehicle primarily designed for business and industrial purposes rather than personal transportation. These vehicles play a crucial role in various industries, contributing to the efficient movement of goods, services, and people in the commercial sector. Here's a detailed description of commercial vehicles: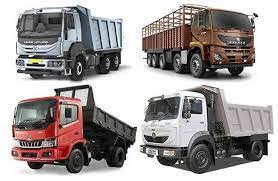 Description of Commercial Vehicles:
1. Purpose and Versatility:
Commercial vehicles are engineered and constructed with specific tasks and industries in mind. They come in a wide range of shapes and sizes to accommodate various commercial needs, from small vans used for local deliveries to massive tractor-trailers for long-distance hauling.Commercial Vehicles in Dubai, Some common types of commercial vehicles include delivery vans, cargo trucks, buses, semi-trucks, and specialized vehicles like refrigerated trucks and construction equipment.
2. Business Applications:
Commercial vehicles are essential for numerous business operations. They are commonly employed by industries such as transportation and logistics, construction, agriculture, retail, manufacturing, public transportation, and emergency services. These vehicles are crucial for transporting goods and equipment, providing services, and ensuring the smooth flow of commerce.
3. Design and Features:
Commercial vehicles are designed for durability and efficiency. They typically feature robust engines, heavy-duty suspension systems, and reinforced chassis to withstand the demands of commercial use. Depending on their intended purpose, they may have specialized features such as refrigeration units, hydraulic lifts, shelving, or seating configurations to suit specific business needs.
4. Regulations and Licensing:
Operating a commercial vehicle often requires special licensing and adherence to strict safety and maintenance regulations. Commercial drivers are usually required to obtain a commercial driver's license (CDL) and undergo additional training to ensure they can safely handle these larger, potentially hazardous vehicles.
5. Economic Impact:
Commercial vehicles have a significant economic impact on a global scale. They facilitate the movement of goods within and between countries, supporting international trade and commerce. Moreover, they create employment opportunities for drivers, mechanics, and other professionals within the commercial transportation industry.
6. Environmental Considerations:
Due to their widespread use, commercial vehicles can have environmental implications, particularly regarding emissions and fuel consumption. Many industries are exploring eco-friendly alternatives such as electric and hybrid commercial vehicles to reduce their carbon footprint and comply with increasingly stringent environmental regulations.
In summary,
commercial vehicles are the workhorses of the business world, serving as essential tools for transporting goods, providing services, and facilitating economic growth. Their diverse range of types and applications makes them a cornerstone of various industries, contributing to the functioning of economies on both local and global scales.