The Chevrolet Silverado truck in Dubai  is a renowned and iconic American pickup truck that has been a staple in the automotive industry for decades. Known for its rugged performance, impressive towing capabilities, and versatile configurations, the Chevrolet Silverado has earned a strong reputation as a dependable workhorse and a popular choice for both personal and commercial use.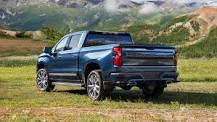 Key features of the Chevrolet Silverado include:
Robust Engine Options:
The Silverado offers a range of powerful engine choices, from efficient V6s to high-torque V8s, ensuring that it can meet a variety of needs, whether you're looking for fuel economy or raw power.
Towing and Hauling:
This truck is designed to tackle heavy-duty towing and hauling tasks with ease. Its towing capacity varies depending on the specific model and configuration, but it can often handle sizable loads, making it a favorite among those who need a reliable vehicle for work.
Versatile Configurations:
The Silverado is available in multiple cab styles, bed lengths, and trim levels, allowing buyers to customize the truck to their preferences. Whether you need a spacious crew cab for family outings or a regular cab for job site duties, the Silverado can accommodate.
Modern Technology:
Chevrolet has equipped the Silverado with a host of modern technology features. These can include advanced infotainment systems, smartphone integration, safety and driver assistance technologies, and more, making it a comfortable and connected ride.
Comfort and Interior Quality:
The latest Silverado models often provide comfortable and well-appointed interiors, with spacious seating and quality materials. The ride quality is typically smooth and composed, even on rough roads.
Bold and Rugged Design:
The Silverado's exterior design is characterized by its bold, angular lines, and a distinctive front grille. It exudes a robust, rugged aesthetic that appeals to those looking for a tough, no-nonsense truck.
Off-Road Variants:
Chevrolet offers specialized off-road variants of the Silverado, such as the Z71, designed to excel in challenging terrain. These models come with features like off-road suspension and all-terrain tires.
Legacy and Reliability:
The Silverado has a strong legacy of reliability and durability, often enduring for many years and high mileage. This reputation has solidified its place as a trusted vehicle in the pickup truck segment.
The Chevrolet Silverado is not only a practical and versatile workhorse but also a symbol of American automotive craftsmanship. Whether you need a dependable truck for heavy-duty tasks or a comfortable and capable vehicle for daily use,Chevrolet Silverado Truck Dubai, the Silverado continues to be a popular choice for those seeking a versatile and reliable pickup.our services